Playgrounds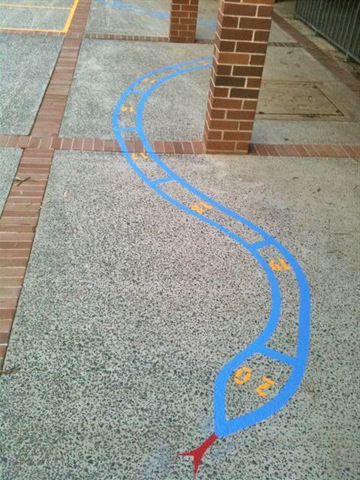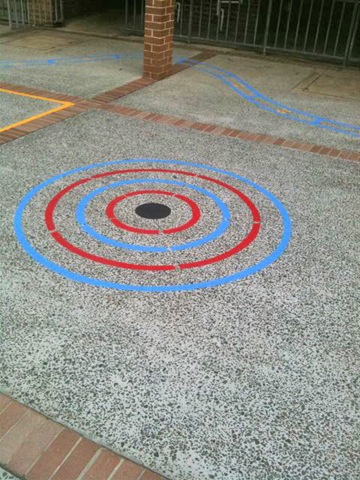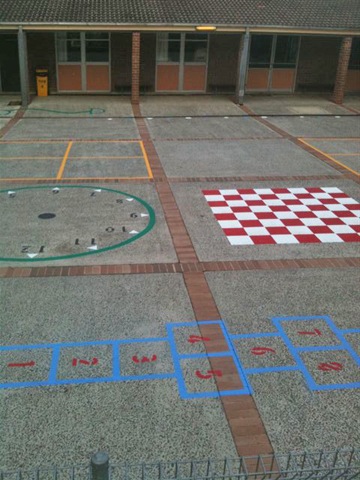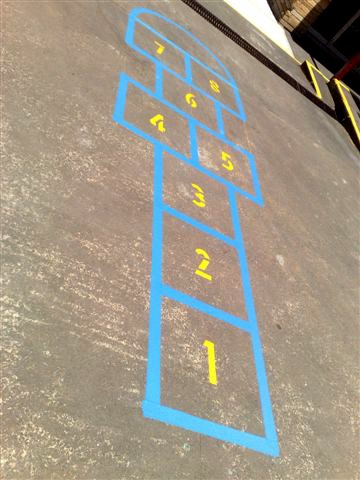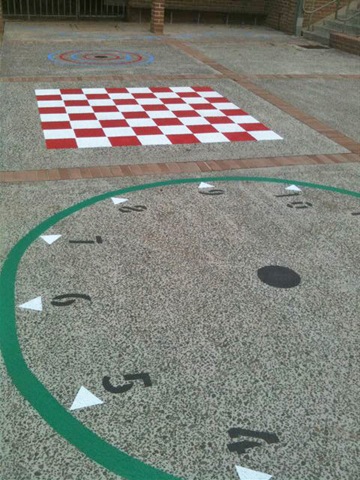 WHY PLAYGROUND LINE MARKING?
PLAYGROUND LINE MARKINGS can:
Decrease Obesity
Increase Fitness
Decrease Bullying
Increase Social Engagement
Decrease Boredom
Increase Concentration
Parents and Friends, School Principals and Teachers can help school children be independent, active, purposeful and social by installing professional playground line markings. Economical and long lasting DIRECTION Line Marking's colourful Playground Markings and Sports Courts help keep more children more active more of the time.
Many Stencilled Games and Line Markings to choose, or custom design your own playground games and DIRECTION Line Marking will make to measure and install. Specialising in outdoor play areas, transform hard concrete and asphalt playground surfaces into colourful and purposeful active outdoor learning areas.
Direction Line Marking provides a specialist Playground Line Marking Service and a range of Games with Stencil Designs to choose from to meet the particular needs of your school site and the age and interests of your children. Low prices for popular games such as Hand Ball and Hopscotch make Playground Marking affordable for all schools and the professional markings in colourful road marking paint are attractive and long lasting. Direction Line Marking can also mark Bike and Cycle Tracks.
CREATE A COLOURFUL PLAYGROUND
Create a colourful playground in any combination of red, yellow, green, blue, grey, black and white long lasting waterborne road marking paint:
Select any combination of games or Design Your Own
DIRECTION Line Marking will customise and install your design.
POPULAR GAMES FOR SCHOOL CHILDREN, ALL AGES
Handball – twin, quad, sis, eight square handball - any configuration of even numbers and sizes to suit play area
Hopscotch – with or without Numerals
Number Snake 1 to 10
Number Snake 1 to 20
Alphabet Snake
Locomotion Trail – hop, skip, walk, jump, slide
Compass
Clock
Zebra Jump Ladder Numerals 1 to 10 or 1 to 20
1 to 100 Number Board
Chess Board
Checkers Board
Mini Basketball
Free Throw Lines
Bike Tracks & Road Safety Markings
SCHOOL LOGOS & MOTOS
Direction Line Marking's services include customised School Logos. Feature your School Logo at your school entrance, office, assembly, sports courts and canteen. Custom stencilled signage including school motos can be applied to any solid ground surface.
TAFE, UNIVESTITIES, COLLEGES & HIGH SCHOOL
University of Wollongong
NSW Department of Education TAFE, West Wollongong
ASSEMBLY LINES, CLASS DANCE & CANTEEN LINES
SCHOOLS- CLIENTELE & TESTIMONIALS
Direction Line Marking's client includes Infants & Primary Schools, High Schools, Pre School, Long Day Care & Early Learning Centres, Sporting Clubs and Local Councils. – link to testimonial Pennant Hills Owner Managers, Dave and Vanda Knipler work directly with Principals, Teachers, P&F (Parents and Friends) and Children's Services Staff to install professional Playground Games and Sport Court line markings throughout Sydney and the South Coast, Illawarra, Shoalhaven and Southern Highlands regions including Wollongong, Batemans Bay and Nowra Schools.
"The children were really excited to see all the new line markings on the first day of school and they make good use of them every day. Vanda and Dave were very easy to work with and completed the line marking exactly as promised, efficiently and professionally."
Kind regards,
Tracy Geary
Pennant Hills Public School NSW 2120
Recent Works Completed
Pennant Hills Primary School, Sydney
International Grammas School, Sydney
Illawarra Grammar School, Wollongong
Shellharbour Anglican College, Shellharbour
Illawarra Sports School, Fairy Meadow
All Saints Catholic Girls School, Alexandria
Aspect South Coast School, Corrimal
NSW Department of Education TAFE.,West Wollongong
MET School Goulburn
Bomaderry High School
Warilla Baptist Pre School
Baulkham Hills Early Learning Centre
Professional Line Marking of Playground Games and Sports Courts is the ideal cost effective way to permanently improve playgrounds for children in pre schools, infants, primary and high school. Line Marking provides instant play opportunities in all weather with no dependence on equipment. Popular games like Handball and Hopscotch promote fitness, develop hand eye coordination, concentration and social interactions while giving children an emotional outlet – FUN!
Playground Markings by Direction Line Marking offer true value for the hard earned P&F dollar and are eligible spending for DET Live Life Well @ School grant. (Insert Link to DET Grant Page) See samples of Direction Line Marking's long lasting, professional and colourful play ground markings. Make more children more active more often and select from the range of Sports Courts Playground Games.
- sports courts - view samples of recent works completed.
- playground markings - view samples of recent works completed.
Call on Managing Director Dave Knipler's expertise in playground line marking, he's a specialist in his field. Free phone or onsite consultations for all playground solutions.

Call Owner/Managing Director, Dave Knipler for immediate assistance on 0412 296 146.